Quizzes That Correct
Themselves.
Your time is precious. Design the quiz,
we'll handle the rest.
Click to unmute or pause video.
Teach Smarter, Not Harder
We provide a simple, yet powerful quiz builder to enhance your teaching experience and help your students learn better and faster.
Free, Quick, and Easy to Use
With QuizUp, you can design your quizzes effortlessly. Its intuitive quiz editor lets you incorporate text blocks, titles, and even code, just like markdown. Did we mention that you can start creating quizzes for free?
Grade Effortlessly
Content: Say goodbye to manual grading. Our system auto-corrects your quizzes within less than 1 minutes.
Experience Our Tools Firsthand: Take the Demo Quiz!
Are you curious to see our platform in action? There's no better way to understand the full scope of what we offer than by diving into a hands-on experience.
Engage with Open Questions

Instant Feedback for Learners

Precision Error Spotting in Corrections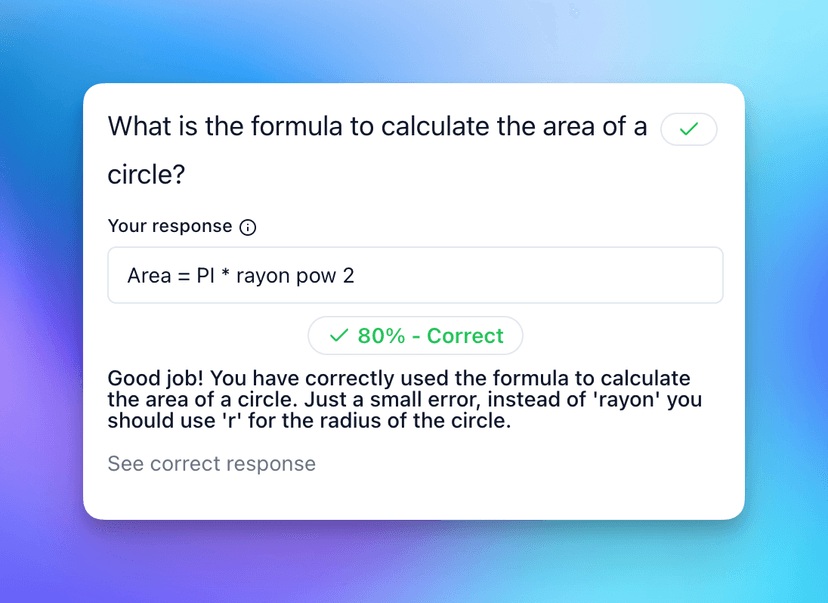 It's like a teacher, he grade the student with understanding of the question.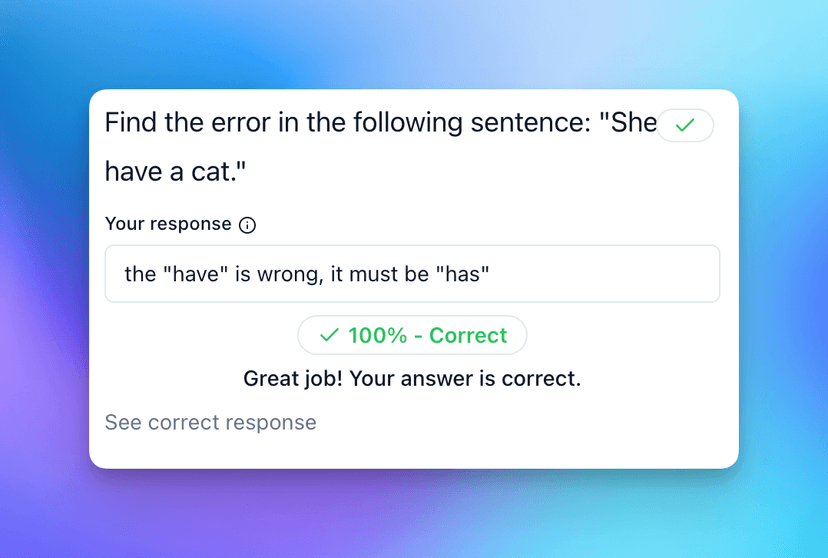 Math, Science, History, English, and more. QuizUp can handle everything.
Your Interactive, Easy-to-Use Quiz Builder
With QuizUp's intuitive editor, creating quizzes becomes as simple as jotting down your morning notes. Incorporate text blocks, titles, code, and more - a dynamic quiz environment at your fingertips.

"The editor, designed in the style of Notion, is incredibly intuitive and user-friendly. I was able to start creating quizzes almost immediately, without the need to learn anything new "
Turn Quizzing into a Powerful Learning Tool
Quizzes are more than a test of knowledge – they're a proven and powerful tool for learning. Every quiz is a catalyst for mastery. Students can evaluate their understanding, reinforce their memory, and identify areas of improvement. Whether an answer is right or wrong, each response becomes a lesson in itself. Our system provides personalized, insightful feedback for every answer, transforming quizzes into interactive learning experiences.

" QuizUp has made a monumental difference in my studies. Having quizzes graded instantly by AI is just incredible! It allows me to get immediate feedback on my understanding, helping me pinpoint exactly where I need to focus. "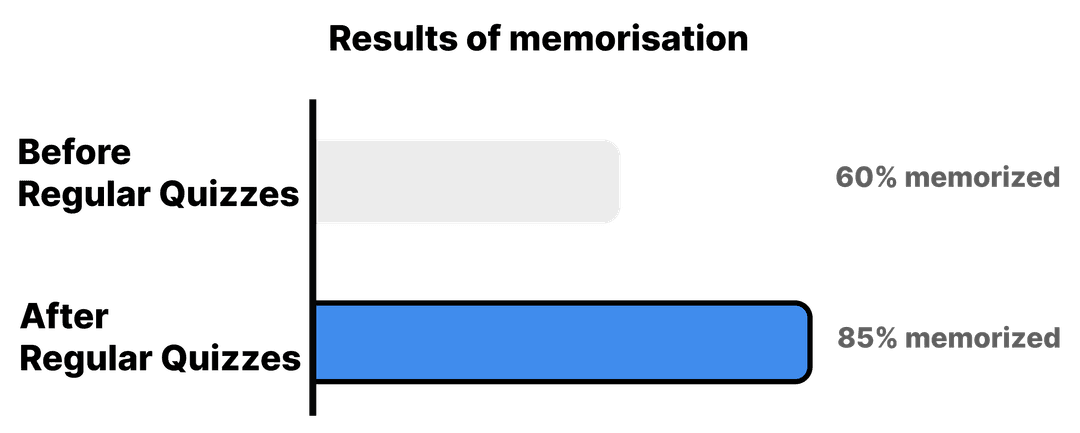 Share Knowledge Seamlessly
Conduct quizzes anywhere, anytime. Share a simple link to let your students embark on their learning journey, and reveal their results in real-time. Welcome to the ease of online education.

Create your quiz
Use our intuitive editor to create your quiz. Add questions, answers, and more to create a dynamic quiz environment.
Share your quiz
Share your quiz with your students. They can access it anywhere, anytime, and on any device. You can ask for email or not.
Get results
Get results in real-time. See how your students are doing and where they need help.
Invest in Learning, Invest in Future
Choose from our tailored plans to empower educators and students alike. Unleash the power of AI, simplify testing, and elevate learning experiences.
FAQs
Can we view and analyze student responses?
Yes, it is possible to view all student responses and see who had the best results.
Can I customize the quizzes according to my teaching requirements?
At the moment, it's not possible to change colors or customize the quiz display apart from the questions it contains. However, with your support, this will become a priority task.
How does QuizUp benefit students?
Taking quizzes is the best way to memorize, revise, and test students. Ideally, create quizzes on each topic covered in the class so that students can review and memorize. Quizzes can also be useful for revising for entrance tests to schools.
How do I share quizzes with my students?
Each quiz has a unique identifier which can be shared with students in a URL. You can then ask the students to provide their email to identify who has responded to the quiz.
How does the AI grading system work?
We use OpenAI's API to compare the expected answer with the user's answer. We then generate a 'success percentage' to help the AI determine if the student's response is correct. As a teacher, you can set the minimum success percentage needed to validate an answer.
How does the payment work?
We charge for the number of responses, meaning that you can create as many quizzes as you want, it's only the responses that are billed. To prevent anyone from answering, you can use a password system for your quizzes or ask for user emails.